Our Wedding Page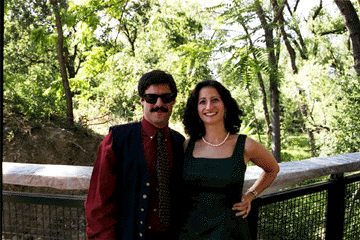 Yes, the rumors are true. Hanna and Adam are getting hitched.
We have finally updated this page some, and will continue doing so.. But for now, here is the important info:

We are getting married on Oct 7, 2001, at 5:30 pm.
The location is the New York Hall of Science in Queens (directions).

Our Story
We met first in about 1983 in high school, if you can believe it. We were really only acquaintances but had some mutual friends. We re-met over a decade later at a friend's birthday party. We started dating soon afterward. Adam lived in Cambridge at the time, while he was finishing his Ph.D. in aeronautical and astronautical engineering at MIT. Hanna was living in Brooklyn finishing law school so we spent a lot of time meeting in Phoenicia, at Adam's parents' country house. Hanna fell in love with Adam's family and Adam himself and soon moved to Cambridge. Later, Adam got a really cool job working as a flight controller for the International Space Station at NASA in Houston, Texas. Yee-ha! So he took the girl out of Brooklyn, too. We adjusted well to Houston, Hanna learned to drive, and then one Sunday afternoon last November, right before Thanksgiving, Adam and Hanna went aerobatic flying (Adam is a great pilot and likes to fly upside-down on occasion--Hanna has an iron stomach and enjoys when Adam turns her world upside-down). That particular day, Adam had some butterflies in his stomach, and some champagne chilling on ice in the car. While flying upside-down, he popped the question. Hanna said yes and her feet haven't touched the ground since. We are excited for the next adventures.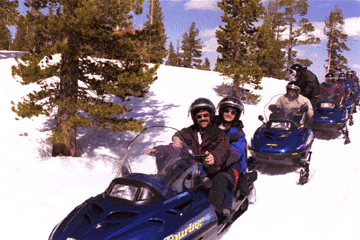 Where to Stay in NYC
There are three major options. The Carlton Hotel is a wonderful, gorgeous hotel in a great location but the lobby is not finished. There is a lobby but it does not have a bar or a restaurant. They have a deal with a gym around the corner for $5 day passes. If you reserve under the Liebman-Dershowitz wedding block of rooms it will be $189 per room. Otherwise, you can reserve a room at another hotel very nearby at which we have taken a block of rooms, which is the Doral Park Avenue. That one is $210 under our group reservation. Finally, We are waiting to see if we have more people who need rooms and if so, we will take more at the Doral and/or Carlton and we have a block of rooms at the Sheraton Russell, which is directly across the street from the Doral. The Sheraton Russell is $229 per room. The cheapest deal that we found is ThirtyThirty, a very minimalist hotel, with a rate of $149.

They are all in the same neighborhood.


Registry
Many have asked us where we are registered.

First, we have registered for some dishes with a potter that we love named Elena who works in the Catskills in New York State. She is making us a custom line of gorgeous deep blue and black dishes that we helped design. She will add pictures to her website at some point when she has a demo set made up. If you call her, she will tell you more.

She is on the web at www.elenazang.com or by Tel/Fax 845-679-5432 or email: ArtZang@ulster.net

We have also registered at Crate and Barrel and at Macys. You can get to both through WeddingChannel.com. Finally, we have a bunch of pictures and things that we have wanted to frame for a while. So we have registered at Deck The Walls, a national framing store chain. This was unusual for them, and all you have to do if you want to get us a framing gift certificate is call 800-527-1036 extension 1503 and talk to Andrea Pinter.

Thanks for asking,