Dershstock 2001

Dershstock 2001 is on!
First off, we really wanted to put a whole bunch of new pictures, here. But we have not gotten to them yet. So most of these are from last year. But we hope to fix that soon, so check back.
Now to the important stuff. When people learned that Hanna and Adam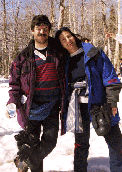 had gotten engaged, they started asking what that would do to Dershstock. Would it happen this year? When they realized that the 4th will fall on a Wednesday, the question become if so, when (all week, all month, just a day, include one or the other weekend)? Well the answers are, of course it is happening and it is Wednesday, July 4st through Sunday, July 8th the place to be is Phoenicia, NY. Everyone is welcome.
As always, there will be plenty of sun, food, drink and people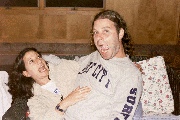 . So come on and do some hiking

(You can click on these pictures to see them bigger) in the mountains, or swimming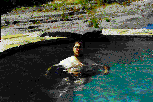 in the pool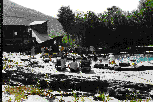 or the pond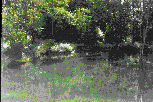 , or sitting in the hot tub
, or hangin' with the cool people, or playin' tennis, or huckin' disks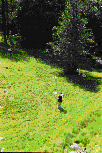 or eatin' or drinkin'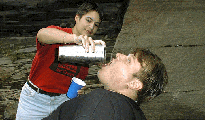 or dancin'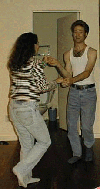 or jammin'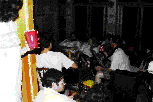 or get a massage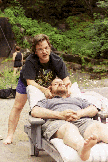 The beds are somewhat limited

, but there is plenty of floor space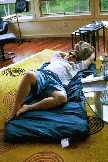 , and more camping space outside than we can possibly fill up. So tents are probably a good idea.

Here is a suggestion of some stuff to bring: Food/drinks (please), towels, bathing suits, no bathing suits, sun screen, bug spray, tennis stuff (there is a court), friends, significant others, insignificant others, kids, pets, sleeping bags (you will need them to sleep), hiking stuff, rock climbing equipment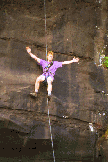 (there are great cliffs to climb), musical instruments, games, toys, tents, yourself. We can't bring too many CDs from Texas so please bring some music to play.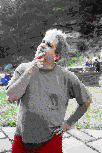 RSVP not required, but appreciated.
There are some other Dershstock pictures that are still on the web from the past.
You can get in touch with us with more questions by emailing me at dersh@alum.mit.edu, or me at hliebman@brooklaw.edu or phone us at (713) 571-8866, or up in Phoenicia (around the time of the event) (845) 688-5659 or (845) 688-5506. If you are looking to carpool (give or receive) get in touch with us.
See yous guys up there,