Dershstock 2004
A Decade of Dersh


Dershstock X-treme is on for an X-ceptional good time. Because we are not expecting any births this year, we are back on schedule for July 4th weekend. As Muenz has informed us that this year the 4th falls on a Sunday, Dershstock-X will be July 3rd, 4th, and 5th (Saturday through Monday). We can't wait to see you all.

Days before the end of her first year, Zara Columbia will be joining us for her second Dershstock.

For more info about the party in general you can refer to last year's site (which was very minimalist) or sites from prior years that contain lots of pictures and details, and can see directions as well. I also shot a cool Quicktime VR of the house during winter.

Dershstock happens in Phoenicia, NY and all are welcome to come party with Zara and the rest of us. So feel free to bring friends, family or anyone else who you think can put up with us, or who knows how to babysit.


Things to do at Dershstock:
Eat, Drink, be merry, rock climb, hike, swim, screw, play tennis, play ultimate (on the new field!), go antiquing, Hot Tubbin', saunaing, did we mention drinking, play music (or sing, or listen), play games, sit by the bonfire, read, hang out, meet cool people, philosophize!


Things to bring to Dershstock:
Sleeping bag, tent (if you want to camp), bathing suit (optional), food (bring some stuff, and we are all pretty communal about it & there is always a grill on), drinks (beer, wine, great bottles of Scotch etc. ), ice, coolers (we always have more food than fridge space), sporting gear (hiking, rock climbing, tennis etc.), games, friends, musical instruments, CDs (it is hard to bring much music from Texas), towels, cameras, art supplies, good weather, philosophies!

The beds are somewhat limited

, but there is plenty of floor space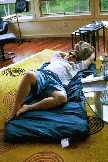 , and more camping space outside than we can possibly fill up. So tents are probably a good idea. A few people have asked about local hotels. The closest is the rustic Ray's Cabins, (845)-688-5410. We hope to add to this list shortly.


RSVP not required, but appreciated.

You can get in touch with us with more questions by emailing me at dersh@alum.mit.edu , or me at hannal@world.oberlin.edu or phone us at (713) 571-8866, or up in Phoenicia (around the time of the event) (845) 688-5659 or (845) 688-5506.